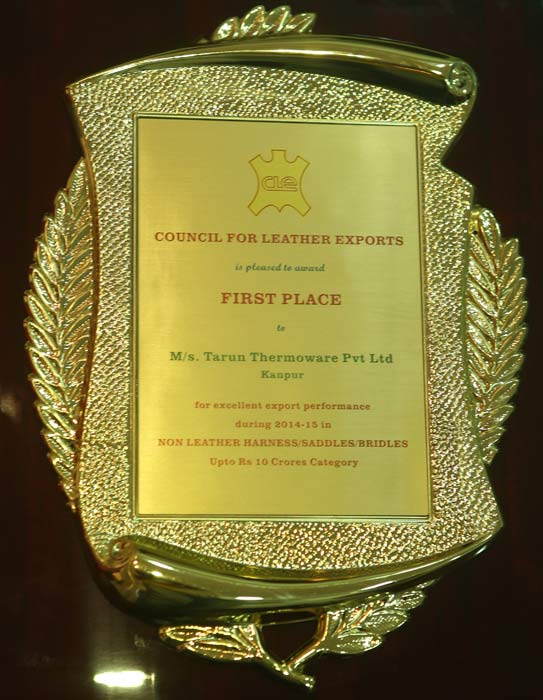 With over a decade of experience, Tarun Thermoware Pvt. Ltd. has carved a well-noted name for itself in the equestrian industry. Catering to some of the most preeminent brands across Europe, the USA and Australia, we do our absolute best to manufacture the highest quality products. Our commitment to this industry reflects in that the Government of India has facilitated us as a 'Star Export House'. We also have been recipients of the 'Outstanding Export Performers' award by the Council for Leather Exports.
Our core competency lies in the manufacture of rugs and saddle pads. We ensure that our products are not only comfortable and durable for the horse and the rider, but also equally in vogue!
Our company brings together the best of skill, technology and governance to create an extremely competent and quality conscious manufacturing system. Located in the heart of Kanpur, India's foremost industrial city, our infrastructureconsists of state of the art machinery with a specialized work force.
The company employs around 200 skilled workers including specialized technicians and experienced managers.
Spread over a built up area of over 25,000 sq feet, we have our own computerized quilting, embroidery, seem taping, lock-stitching and bar-tacking machines.
Our current installed capacity serves the production of over a 1000 saddle pads and horse rugs everyday.
Our economies of scale ensure that we are able to offer our products at extremely competitive prices. With vertically integrated facilities, in-house, that enable us to ensure on-time deliveries and complete quality control, our client's value us for our commitment to product perfection and adherence to timelines. We have a dedicated team for product development that continuously upgrades our products with the latest value additions that we can offer to our customers.
As we are continuing to scale our operations, we are also diversifying into related products. In 2014, we launched a manufacturing division for dog coats. Although we are still in the nascent stages in this particular line, positive market response encourages us to grow this product line with fervor.
We have been regular exhibitors at the Spoga fair, held every September and February in Cologne, Germany, for the past 12 years. As a 100% export organization, we understand that the most important element in international trade is mutual trust between the parties involved. Tarun Thermoware enjoys widespread goodwill amongst its clients; it is an inculcated spirit of the organization to make the trade process smooth, transparent and lucrative for the buyer. Our Human Resources team works diligently towards promptly addressing every client query/ requirement. We make it a point to be accessible to our buyers at all times.
Choosing to work with Tarun Thermoware, you will be assuring yourself a seamless business experience, with the highest grade in product quality and price. It would be our absolute pleasure to address any inquiry from you!
Managing Director: Mr. Vishal Garg
Part Time Director: Mrs. Chhavi Garg